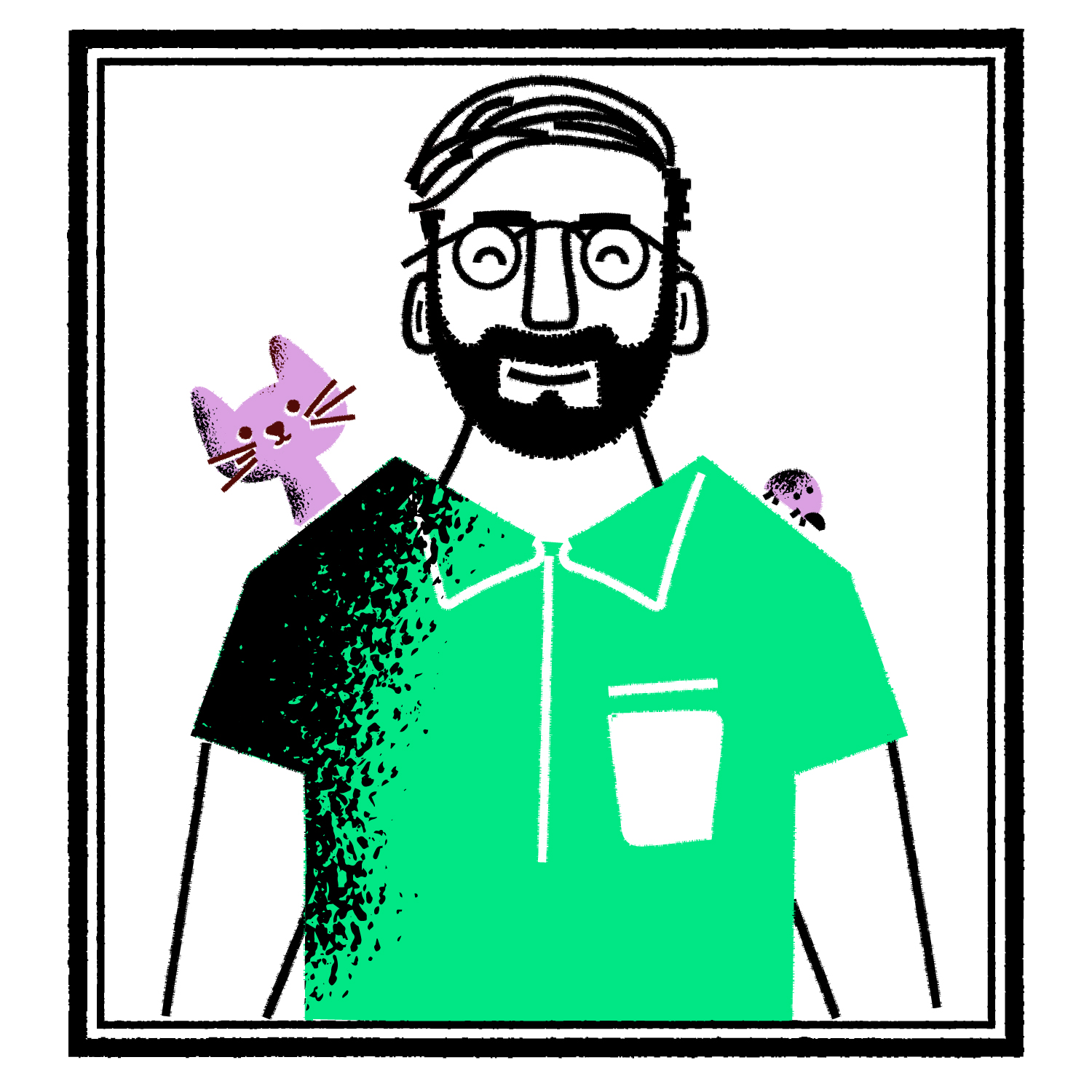 Hi, I'm Greg Franco, also known as Le Cartographiste, and I'm a freelance map designer and illustrator based in beautiful Brittany, France.
After more than 15 years of experience as an illustrator and digital designer, and five years exploring the World with my backpack on, I decided to use my passions for travels and the creative fields to create a new path for my career. I discovered that map making could mix these two passions and I dived head-first in this new field.
I now use my creativity and expertise to help my clients create any types of creative cartography (illustrated or practical maps) or travel-themed spot illustrations.
Need a map project or spot illustrations? Please get in touch and let's get creative!
Let me know what kind of map (illustrated or practical, location map, access map, itinerary map, situation map, etc.) or the type of illustration (spot illustration, set of icons, etc.) you're looking for, what industry you work in (magazine, publishing, travel, public institutions, hospitality…) and what is your final use (magazines, books, websites, advertising campaign, promotional items like flyers, invitations, emailing, etc.). I'll be happy to help!
SELECTED CLIENTS
Magazines
Vanity Fair, Courier media, Bush Journal, Terre Sauvage, Alpes Magazine
Publishing
Hachette, Marabout, Superminimaps, Exploring Wine Regions
Tourism and public institutions
Visit Napa Valley, Visit Boulder, The Presidio, Visit Big Bear, Visit Petaluma, Chickasaw Country, Visit Pleasant Hill
Hospitality and travel industry
Deutsche Bahn, Hutton Brickyards, Pink Shell Beach Resort & Marina, Emerald City Hotels, Encompass Africa, Tasmanie Voyage, Patch Adventures
Services and retail
Atelier100, Headbands for Hope, Kift
SHOWCASED IN
Books
100 ILLUSTRATED MAPS OF VERY SPECIAL PLACES - Nate Padavick ; SKETCHEL BOOK - Jeremyville
Press
XFUNS (Taïwan) ; DIGIT (United Kingdom) ; CLARK MAGAZINE (France) ; IDEA (Taïwan) ; STUDIO MULTIMEDIA (France)
Exhibitions
!RESIST! (Paris, France) ; THE DISKOVERY (Montreux, Switzerland) ; POP'N FLOP'N (Lille, France) ; SKETCHEL SHOW (Sydney, Australia)
CLIENT TESTIMONIALS
I was so impressed about how easy Greg made everything on a multiple map project I hired him to do for our client. He needed absolutely no hand holding creating maps of several specific locations for us[…]
He was very responsive, even in opposite time zones, and it's clear that he is very conscientious about his work, which is top shelf. The maps turned out beautifully, our client is very pleased, and we will use him for other projects moving forward.
Deanne O'Connor – Creative Director, O'Connor Creative, Wanderlust Content Studio
Greg was great to work with. He helped us turn our idea of a map into reality, and we're very happy with the final product. Communication was clear and precise at all steps, and the project was completed quickly and within budget. Highly recommend.
Carrie Tomlinson –Digital Marketing Manager, Boulder Convention and Visitors Bureau
Greg was an IMMENSE PLEASURE to work with! He has a strong design background and was able to bring to life our designs with little guidance[…] We undoubtedly will re-hire and recommend him to others.
Danni Lopez –Product and Operations Director, Kift
Greg completed a highly-specialised map design job for me. From the very first communication I was deeply impressed by Greg's responsiveness and readiness to tailor his work to my exact needs. Technically, I found his work to be excellent: detailed, visually striking and exactly what I was looking for. Communication was excellent throughout […]
The completed job exceeded my expectations by a significant margin: Greg is a first-rate freelancer and I would recommend him most highly for any mapmaking projects you might have.
William Seager – Owner, Tasmanie Voyage